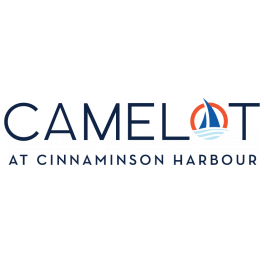 Your Review
Submit a Review

Resident Reviews
|Recommended: YesFirst time living in an apartment — This is my first time living in an apartment. The overall complex is nice and the staff has always been professional and positive. The few neighbors I have met are friendly but mostly keep to themselves. The apartment is quiet and you rarely hear your neighbors. Regarding Maintenance, I have only opened one ticket and have been waiting over a week to get an outlet on the balcony turned on. But overall, I would recommend Camelot at Cinnaminson.
|Recommended: YesI simply love it here — As a new resident of New Jersey, Camelot at Cinnaminson Harbor has made my transition a pleasant one Every staff member that I've come in contact with has operated in excellence. My neighbors are peaceful. The grounds are well kept. The layout is luxurious I don't have any complaints
|Recommended: YesI love it — I highly recommend it but i wish we was a private gated community because outside people always in our complex and basketball courts and walking around the complex and don't live there
|Recommended: YesMy favorite apartment — Everything from the start has been great Mary was so helpful in our process of renting at Camelot. She was friendly, knowledgeable and quick to respond. Rest of staff was also very friendly. Our place is beautiful and exceeded our expectations. I've only needed maintenance one time locked myself out and they came right away to let me in
|Recommended: Yes...very impressive property and well maintained — Camelot is conveniently located to Philly , well maintained and impressive
|Recommended: YesGreat — its such a nice place
|Recommended: YesGreat place to live in — Parking is difficult for late at night, but you can find some still. For the townhomes, you can fit 2 sedans or 2 SUVs back to back in your two-car parking space garage. Maintenance is prompt and very friendly. I never had to worry about things in the apartment fixed. The staff in the office are friendly and helpful. The community itself is quiet. Living in the townhomes is the best but the waiting list is long. In the apartments, I lived below a family with kids so yes, noise is a constant thing but I have children of my own so it does not bother me much. The maintenance staff do their best to clean up the grounds but unfortunately,. some people just cannot find the trashcan or dumpster, no matter how many dumspters there are in the premise, which is a LOT No reason why people cannot throw their trash in proper bins. The office responds promptly to any reports of pest, The pest control come out the very next day. But really, the place is clean so pests are not an issue. Landscaping is a constant thing and the grounds are kept trimmed. In the winter, they do their best to make sure all walkways are salted. and I never really had to worry about snow removal. Overall, I love this place so yes, five stars for me
|Recommended: YesWe love the location and the complex is great so far It is well maintained and nice to walk around in — It is quiet for the most part and a nice place to live. The property is well maintained, and we haven't had any issues so far. Our biggest complaint is that it constantly smells like pot on our floor and we can sometimes smell it through the bathroom in our bedroom. Otherwise, we like it here.
|Recommended: YesOverall it is a nice complex — The staff are friendly
|Recommended: YesIStudent, and carpenter. — A good place to live.
|Recommended: YesMaintenance — With the COVID-19 pandemic happening it's important that anyone entering your home should have masks and gloves on. I packed my fridge and freezer like most of us and it began making loud noises. I was freaking out. Maintenance came right away to check it out. Rafael had gloves and a mask on. I was relieved. A couple days later my heater was making noises. Jason and Rafael came to check it out. They both stayed atleast 6 feet from my door when I opened it and spoke to me from there. Again I was glad to see they were taking precautions. It was just a loose part. A bathtub overflowed on the third floor. I have bad luck lol There was water pouring thru my bathroom ceiling. They were here fast. They had masks and gloves on even in the rush of things. Steve handled the situation quickly and efficiently. He made the right decision by calling Servpro and had them there that night to dry up the walls, ceiling and floors. Myself and my son have health issues that require extra attention when it comes to our home. Steve has been very kind to my family since we moved in. He has taken special care of a few situations above what another maintenance supervisor would have done. He cares about people and tries to help.
|Recommended: YesLove my Apartment — Just moved in 2 weeks ago and just love it here. I am a very picky person and I must really commend the maintenance cleaning staff, I never moved into a place that was so clean spotless, it was done so professional, that I didn't have to redo it myself. Having had my own Cleaning Company this is a Great Compliment to your Staff. The community is beautiful and the grounds are very clean and always kept that way. Being a single women, I feel very safe here. I'm looking forward to the warmer weather, sitting on my little deck, going to the pool, the gym., taking a walk around my new neighborhood. Just love it here.
|Recommended: YesNice place to live — Apartments are spacious, maintenance is good, grounds are kept nice, an office staff are amazing.
|Recommended: YesSo far it's a very pleasant place to live, well kept landscaping, spacious apartment, ample parking, gym an business center are definitely a plus , an the office staff is amazing an are always there to answer a question or help with a concern.